It is currently -6°F outside and this is how the day is supposed to shake out:
Today: Mostly sunny and cold, with a high near 0. Wind chill values as low as -31. Breezy, with a west wind 23 to 26 mph decreasing to between 14 and 17 mph. Winds could gust as high as 36 mph.

Tonight: Partly cloudy, with a low around -13. Wind chill values as low as -26. West wind 5 to 13 mph becoming south.
Fortunately, tomorrow should be an improvement:
Tuesday: Snow, mainly after 2pm. High near 6. Wind chill values as low as -25. Southeast wind between 5 and 11 mph. Chance of precipitation is 80%. New snow accumulation of 1 to 3 inches possible.

Tuesday Night: Snow likely, mainly before midnight. Cloudy, with a low around -3. Wind chill values as low as -15. East wind 5 to 11 mph becoming southwest. Chance of precipitation is 70%
I just wish we had gotten some snow here, like some people we talked to this weekend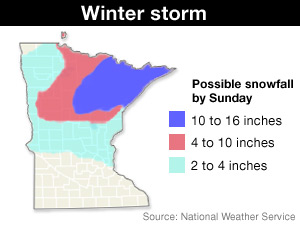 PORTLAND, Ore. --Nearly all area schools were closed Monday, after the arctic blast froze over Portland roads and paralyzed the city. Scattered snowshowers tapered off Sunday evening but roads remained extremely slick. Temperatures were expected in the teens Monday, as some of the coldest weather in years settled in across the region.
Last night when I talked to DTE, she said there are no contingency plans for finials if campus was closed today, due to buses not being able to run.
Fortunately, DTY's campus isn't considered a "Commuter Campus" like DTE's is.